Until further notice, we are only accepting food and hygiene item donations.  The greatest needs are as follows:
Peanut butter

Instant cups of soups and noodles

Individually packaged fruits

Tomato Sauce

Spaghetti Sauce

Disinfectant

Tooth brushes and tooth paste

Shampoo, conditioner, and bar soaps

Size 5 and 6 diapers 

Boxed macaroni and cheese

Bagged pasta noodles
Thank you for delivering to our loading dock at the back of the building at 670 W. 9th, San Pedro, between the hours of 9 to 5, M-F.  Ring the buzzer when you arrive, and an employee will answer.
We are NOT accepting clothing or other items. When we resume the following applies.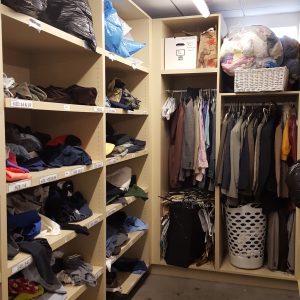 DONATE CLOTHING, FOOD, HYGIENE & SEASONAL ITEMS
In the near future we will invite people to donate food, clothing and hygiene items for client use.   You can donate these items by driving around to the rear of the building to our loading dock where there is covered parking.  Donations are accepted from 9:00 a.m. to 5:00 p.m. at 670 W. 9th St., San Pedro, 310-831-9123.  We do not have a drop box, so please do not leave items outside the building on off hours.   Often, passers-by go through them and scatter them along the alley.
Clothing (On hold until further notice)
The Clothing Closet offers free donated clothing to clients of all ages.  Please donate new or lightly warn (and clean) clothing.  Here is what our clients need:
socks (new socks only, please)
undergarments (new undergarments only, please)
clothing for all ages and sizes
casual and business clothing for men and women, including ties for men
accessories: Belts, scarves
winter clothing (hats, gloves, coats, sweaters)
shoes (sport, casual, business)
Donations are accepted from January through October.  We do not accept clothing donations in November and December.
Food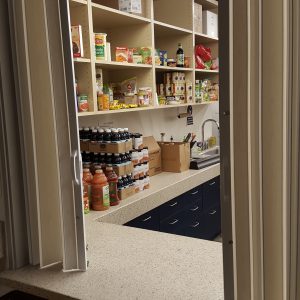 Food donations are always welcomed.  The Food Pantry is our most-used service, serving 7,400 people per year.  Please note that we do not serve meals.  We need packaged and box foods (no perishables, please), and the food should not be used or opened. (e.g., an open box of cereal, a partially-used bottle of ketchup).  Here are examples of foods that we need for the clients:
Canned soup, vegetables, fruits, and meats
Cereals
Beans
Packaged meals (e.g., macaroni and cheese box)
Pasta and pasta sauce
Peanut butter and jelly
Rice
Hygiene Items
We also distribute hygiene items to our clients.  We invite you to donate new and unused items.  Here is a list:
diapers (child and adult–we serve all ages)
soap, deodorant, lotion, etc.
toothpaste and toothbrushes
shampoo, hair conditioner, etc.
Thank you for supporting Harbor Interfaith Services.
Seasonal Items
We do have seasonal needs such as toys at Christmas, school supplies in August, and turkeys and hams for the holidays.  To learn how to help, please click here.
Other Items
Please call ahead to verify acceptance of the following kinds of donations:
cars
furniture
appliances
books
kitchen tools (e.g., pots and pans)
linen
Thank you for supporting Harbor Interfaith Services.