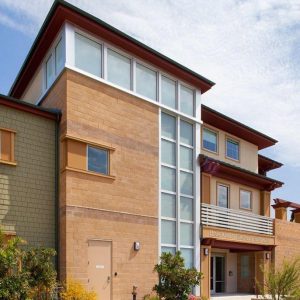 Family Resource Center
670 W. 9th St., San Pedro, CA
Hours:  Monday – Friday
9:00 a.m. to 5:00 p.m.
Phone:  310-831-9123
The Family Resource Center (FRC) is the point of entry for all of Harbor Interfaith's services.  To be eligible for services, you must be either homeless or working poor.  The services of the FRC follow below.
Providing Food:
Food Pantry: Through the Pantry, clients can receive a three-day supply of groceries, donated clothing, personal hygiene items; shampoo, deodorant, diapers, toothbrush and toothpaste. The Pantry operates with the help of more than 75 volunteers.
Holiday Food Baskets: During Thanksgiving and Christmas, the FRC also provides over 700 holiday meal baskets and gifts for families and individuals in need.
Public Benefits: You can apply and renew your CalFresh benefits.  The state-funded program issues monthly electronic benefits that can be used to buy most foods at many markets and food stores.
Stop Hunger Now: More than 20,000 households In the South Bay area of Los Angeles are considered "food insufficient," which means the household runs out of money for healthy meals prior to the end of each month. Seniors often must choose between paying for prescriptions and putting food on the table. Mothers often go to bed hungry because they put their children first.  The Stop Hunger Now program provides outreach and nutritional education to low-income families while helping them to sign up for food stamps.  Program Locations include Saint Margaret Mary Church, Harbor Interfaith Services, Harbor WorkSource, WIC Torrance, WIC Wilmington, WIC San Pedro, WIC Gardena, Wilmington Senior Center, Volunteers of America.
Providing Clothing:  Clothing Closet:  We have an onsite Clothing Closet with used and new clothing available for free to all clients.  The Clothing Closet is also staffed by Volunteers.
Providing Advocacy:  Case Advocates work one-on-one with clients to provide guidance and referrals for housing, job placement, public benefits, medical services, counseling and other support services including one-time rental assistance and help with utility cost.
Providing Help for Seniors:  HOPE-(Having Opportunities and Producing Excellence) for seniors program serves clients who are 55 and over. They receive monthly groceries and hygiene products. Groceries may be delivered to those that are homebound. Transportation is also provided to and from Harbor Interfaith for those requiring assistance.
Providing Other assistance:  The FRC also provides supportive services to include comprehensive needs assessments, quarterly health and vision exams, help applying for public benefits (including Medical and Medicare), providing assistance with finding housing and employment.
Program Requirements
To apply for services you must be a resident of the South Bay area of Los Angeles which includes San Pedro, Wilmington, Harbor City, Lomita, Torrance, Harbor Gateway, and Long Beach.  Household income cannot exceed the Federal Poverty Income Guidelines:
| | | |
| --- | --- | --- |
| Size of Family | Yearly Income | Monthly Income |
| 1 | $11,770 | $980.83 |
| 2 | $15,930 | $1,327.50 |
| 3 | $20,090 | $1,674.17 |
| 4 | $24,250 | $2,020.83 |
| 5 | $28,410 | $2,367.50 |
| 6 | $32,570 | $2,714.17 |
| 7 | $36,730 | $3,060.83 |
| 8 | $40,890 | $3,407.50 |
Intake Process
The intake process consists of the following:
Walk-ins accepted, no appointment necessary
Complete program application
Meet with a case advocate
Submit copies of the required documents for each member in the household.
Review and agree to the agency Information on the Food Policy and Code of Conduct.
Present your driver's license or state identification (adults).  If you don't have these, we will help you get them.
Verify your income (e.g., pay stub, letter from employer, notice of action
Provide proof of residency (e.g., rental agreement, utility bill)
Verify your family size (birth certificates, Social Security cards)