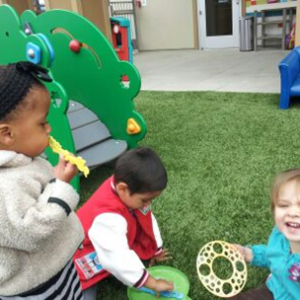 Harbor Interfaith Services Children's Center offers care and education for ages 6 weeks through 17 years on the second floor of the Family Resource Center.  The Children's Center offers two programs:  The Mary Gimenez Caulder Center is our infant, toddler and preschool program, and the HIS Kids Club is our program for school-age youth.
Contact
Isabel Lopez, Director of Education, 310-547-3762 x240
Hours of Operation
Monday-Friday 7:30 a.m. – 6:00 p.m.  Full-time care is defined as 31 plus hours per week. Part-time care is defined as 30 hours or less per week.  HIS Kids operates from 3:00 p.m. to 6:00 p.m.  There is no before school care.  We do offer full-time care during school vacation periods.
Eligibility
The parents of all children must be clients of Harbor Interfaith Services.  To become a client, please go to this link:  FIND HELP.
The Caulder Center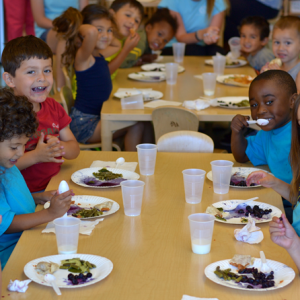 The Mary L. Gimenez-Caulder Center recognizes and respects the uniqueness of each child. Established in 2003, the center's primary focus is to the students in our care. We provide a nurturing and emotionally secure environment and atmosphere to help children develop to their full potential. Emphasis is placed on social, emotional, physical, creative, and cognitive development. It is our goal to teach the children the skills that will enable them to grow, in an orderly environment. At the Caulder Center we celebrate diversity and help children instill integrity, compassion, and confidence. Through our partnership with the parents, we give each child support and encouragement to become his or her own unique self.
Educational Programs:  Gross motor skills and social skills are developed through both structured and unstructured play. Their days are filled with music, art, dance, storytimes, and more.  For the preschool children (ages 2.5 – 5 years, we follow the Creative Curriculum, a system based on the Montessori method through which every child steers her own learning.  We also play games that teach pre-reading skills like phonemics awareness, letter and sound recognition, basic math concepts, and hands-on science exploration.
Meals and Snacks:  A variety of nutritious foods are provided each day that meet the guidelines of the Federal Governments Food Program. We provide a breakfast, lunch, and snacks. We prepare all the food in our kitchen that is located at the center.
Fees:  The cost to parents relies on several factors, including family size, income, and circumstances.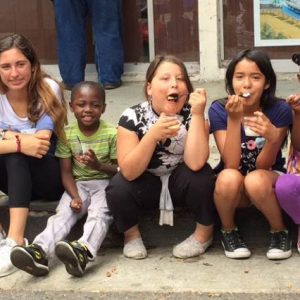 HIS Kids Club
HIS Kids Club is our program for school-age youth.  It provides a nurturing atmosphere to help the students develop to their full potential.  Emphasis is placed on academic skills, as well as social, emotional, and physical development. We know that children do not thrive in an atmosphere of chaos. They need to be able to trust their environment. They need to know they are safe, and that someone understands them.  Students are provided with a safe and nurturing environment. The program operates from 3:00 p.m. to 6:00 p.m. Monday through Friday and full-time during the school vacation periods.
The program offers the following:
Transportation to Harbor Interfaith Services from nearby schools
A safe environment for children to play and grow
Assistance with homework and school projects
On-site tutoring in Science, English, Mathematics, or other subjects
Development of positive values and high self-esteem
A balanced program for physical play and quiet activities that will foster good health, physical and intellectual growth
Nutritional snacks/meals
Arts, crafts and reading to create a balance for growth and development
The program's guidelines are as follows:
Ages 4 1/2 to 17
Enrolled in school grades K-12
Completion of registration form
Submission of immunization record
Commitment to Parent Hand Book
Fees:  The cost to parents relies on several factors, including family size, income, and circumstances.