Periodically, we will post new success stories representative of the clients we have helped.  Below are two stories, Fredrick's and the Jacobs family's (a single senior and a family with children).
Fredrick's Story: From Fire to Safety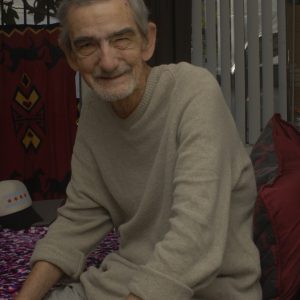 Sirens blared and as the red glow of fire roared to the sky.  Fredrick stared in disbelief at his now former home, The Palos Verdes Inn on the corner of 10th and Palos Verdes Drive in San Pedro, turning into ash.  After ten years of living at The Inn on a fixed income, he had nowhere to go.
That was in 2013, but it wasn't the first tragedy to set him back; it was the one that knocked him out.  To understand what happened, we need to go backward and work forward.
Before 2002, he'd lived a simple life working as a security guard for a some years while going to night school at Santa Monica College. He'd never had a problem with substances or run-ins with the law and had always been a productive member of society. But in 2002, at the age of 60, everything changed.  He began having major health problems making it difficult for him to work.  He suffered from depression and on top of that colitis.  The mix caused him to lose his job.  After help from a social worker, he was able to get Social Security and move into The Palos Verdes Inn where he lived for the next ten years.
But then the Inn went into flames forcing him to move from place to place.  He spent time in a board-and-care to stabilize his health, and he fell into an all-too-common cycle among the homeless:  He'd receive his Social Security income and spend the next two weeks in a motel until the finances ran out. Then, he'd be out in the streets for the remainder of the month.
In 2015, his challenges with colitis turned for the worse, and he had to have his small intestines removed. The procedure placed him into the hospital and then back into a board-and-care to recuperate.  Eventually, he returned to the cycle, splitting each month between a local motel and sleeping outside the Wilmington Senior Center.
On March 23, 2016, Harbor Interfaith Services' Coordinated Entry System (CES) team received a call from a social worker at the Wilmington Senior Center asking for assistance with housing Fredric. CES assessed him and enrolled him into the Rapid Rehousing for Adults and Veterans program.  CES and the Center collaborated on finding Fredric a studio apartment. Ten days later, he was handed the keys to an apartment in Wilmington.
Today, Fredric walks hand-in-hand with a Harbor Interfaith Rapid Rehousing case manager learning how to pay rent, activate a phone, start his electrical services, complying with his rental agreement, and getting help with some of the other challenges faced by someone now 74 years—finding social connection, dealing with health issues, and getting around.  Fredric is also connected with Laundry of Love, a group of faith-based volunteers who welcomed him into their family by supplying him with a "Welcome Home Kit" to assist in turning his apartment into a home. Harbor Interfaith will continue working with Fredrick over the next six-to-nine months to ensure that he is successful in retaining his housing and enjoying a higher quality of life.
The Jacobs Family

The Jacobs family – Mom, Dad, and three children – fled violence in Massachusetts to make a life in Los Angeles. The economy was good here, they'd heard, and the opportunities were ripe. They wanted to start over. They didn't realize how much it would cost to relocate and ran out of cash.  Suddenly homeless, they were referred to Harbor Interfaith, and we got to work at what we do: getting them into housing, making sure the children were okay, and stabilizing the family.  We created a plan to remove the barriers to self-sufficiency and put some strategies in place.
We placed the family in our 90-day Family Shelter, enrolled the school-age children in the Children's Center summer day camp (Maame, Frankie), and helped the father find work. Erica used the Food Pantry and Clothing Closet; the father used the computer lab and mail and phone services.  He got a job – to everyone's relief – but then disappeared, leaving the mother, Erica, with three children.
"She looked for work, and we helped raise her income from $140 per month to $840 through the CalWorks program," said Latrina Craig, the family's Case Manager. "The children enrolled in school with the help of Sharice Sawell, a Los Angeles Unified School District Counselor with its Homeless Education Program.  She came to the shelter and arranged everything from transportation to supplies."  Latrina found a placement for them in transitional housing, which gave the mother a year to find work and to get the family on its feet.